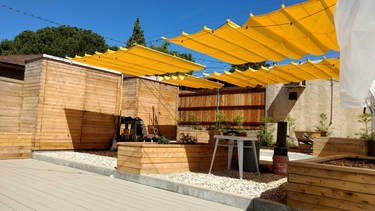 Slide Wire Awnings
​The concept of an awning is old. Since the days of the ancient Egyptians, the idea of this shade structure has changed, evolved, and developed into various types, forms, and sizes.
 
When awnings were first used, they were woven mats that shaded market stalls and dwellings. During the Roman Empire, large retractable awnings shaded amphitheaters and stadiums like the Coliseum. The construction and materials of early awnings were simple. Often, wood or cast-iron posts were used as the frame and canvas was the fabric used as the shade material. Over time, the construction and materials used in awnings developed and new fabrics like polyester and acrylics were used.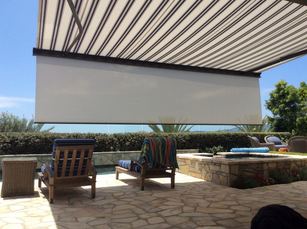 Striped Retractable Awning
​Awnings also became more versatile and we began to see operable awnings in the second half of the 19th century, according to an
article
by Chad Randl which was published by the National Park Service. Roller awnings became available and the use of patterned and striped fabrics became more common. 
By the 20th century, awnings became more focused on improvements in operation as well as customizing configurations to accommodate store-fronts. In fact, during this period, folding-arm and lateral arm awnings were developed and this helped to advance the versatility of the product.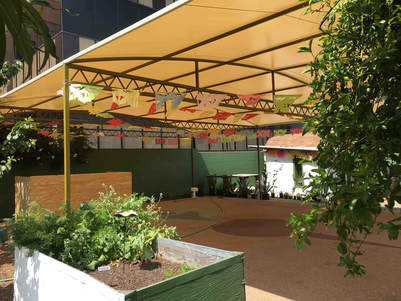 ​Today, awnings come in a variety of shapes, sizes and textiles. They have come a long way from the days of woven mats and cast-iron posts. Aluminum, steel, plastics, and other materials are used for awning posts. Fabrics are now coated with various UV ray, mold and mildew resistant chemicals. Awnings are also motorized and can be customized.
 
So, what's the future of the awning? Down the road, we will start to see the incorporation of technology into our shade structures. We will see the use of solar films – today we have solar panels – and awnings will also evolve with technological advances like new motorized systems, automated functions, and more. The fabrics used in awnings are also set to develop further with new coatings being developed.
 
The awning industry is always developing and seeing how far this shade structure has evolved since the days of the Coliseum, is amazing. 
​Now that you know a little more about awnings talk to your local professional about installing one today. For more information about awnings and other shade structures, feel free to contact us at American Awning & Blind Co. by visiting us at
http://americanawningabc.com
. Or call us at 800-654-5933. You can also email us at
info@americanawningabc.com
.