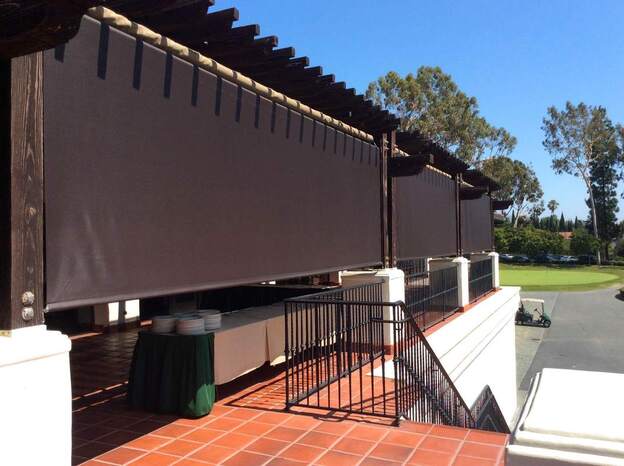 Now that we're able to dine indoors again, it's time to think about how your business can stand out from the competition. Remember, outdoor seating is still a big part of how we're going to dine but indoor seating is now available. So, what can you do to enhance the look and feel of your restaurant and stay ahead of your competitors? The answer: drop shades. 
You're probably wondering, what are drop shades and why should you care if you already have an awning or other patio cover installed? Let's first start with defining a drop shade. A drop shade is an additional shade that you can install on the side of your awning or patio cover or even on windows to provide further protection from the sun or inclement weather. A drop shade is made of the same kind of specialty fabric your awning is made of. The drop shade rolls up or down and can even be installed with specialty enhancements like unfurling from the side. 
Now that you know what a drop shade is, why would it be beneficial for your business? First, if you have outdoor dining, the sun, as you know, hits different parts of your restaurant throughout the day. That means your awning may not provide enough shade for your hungry, hot customers. A drop shade can provide that extra shade and relief for diners. You simply roll them down when they are needed – this can be done mechanically or by hand crank – and roll them back up when you don't need them. The shades can make your business look cooler – literally – and keep your customers happy which means return business for you. 
​Now, if you don't have an outdoor area, drop shades on your windows are also an excellent way to keep your business cool and customers happy. The shades can also be furled or opened whenever you need them. You can get the shades in pretty much any color to match your décor. 
As you can see, drop shades can help you stand out from the competition, enhance the aesthetic of your restaurant, and keep your customers cool and happy while they are dining. And now that we're opening back up for business, now's the time to invest in staying ahead of your competition. For more information about drop shades, visit us at www.americanawningabc.com or contact us at info@americanawningabc.com. 
At American Awning and Blind Co., we help you choose the right awning or drop shade for your location and weather needs. We're an all-in-one awning company; from design, permitting, architectural rendering, and more, we help you every step of the way. Contact us today for your free consultation. Visit us online at American Awning & Blind Co. at http://americanawningabc.com. (Our California Contractors License is #999050). Or give us a call at 800-654-5933. You can also email us at info@americanawningabc.com.