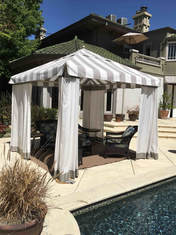 Freestanding Cabana
​Summer is coming! The heat is near! So, how can you save on energy costs for your home or business? The answer is simple: use a shade structure like an awning, shade sail, drop screens, or patio covers.
 
So, how do awnings and the various types of shade structures actually help reduce your energy bills in the summer? Well it's pretty straight forward: shade reduces heat and that means the load on your air conditioning unit is less. Your electric/energy bill won't be as high because you're using shade to help reduce solar heat gain on your home, office, restaurant, or other business.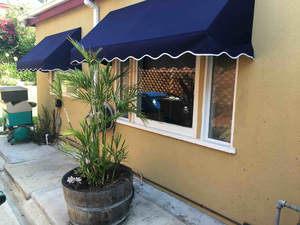 ​
In fact, the
U.S. Department of Energy states
that window awnings can reduce solar heat gain in the summer by up to 65 percent on south-facing windows and a whopping 77 percent on west-facing windows! That means your family, your customers, and your guests are staying cooler without the need to crank up the a/c.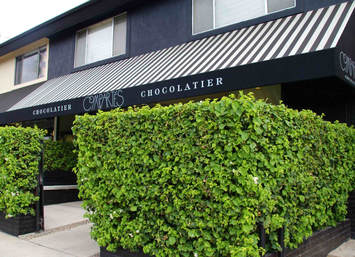 ​​An awning's uses are versatile and the shade it provides, the beauty, and added value are just a few of the benefits of this shade structure. In fact, awnings can also save up to $200 a year on air condition costs for many homes, according to the
Professional Awning Manufacturers Association.
Now imagine what an awning can do for a business like a restaurant or clothing store?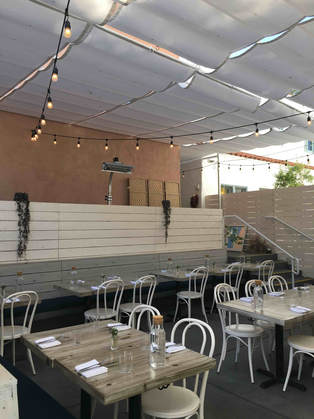 ​
​The shade an awning provide also helps protect the interior of your home or business as well. Remember, UV rays and sunlight can degrade fabric colors on couches and other materials. So, remember, when you're thinking of an awning, just keep in mind that it's not just an energy saver, but a great way to keep things protected from the harmful rays of the sun. 
​Now that you know a little more about energy saving awnings, talk to your local professional about installing one today. For more information about awnings and other shade structures, feel free to contact us at American Awning & Blind Co. by visiting us at
http://americanawningabc.com
. Or call us at 800-654-5933. You can also email us at
info@americanawningabc.com
.